Now that summer is upon us, I've been breaking out the breezy fabrics and shorts!

I was inspired to do this like by my favorite lady, Dita Von Teese! I really love her style and the way she presents herself. She embodies the classic style that we lack in this day and age. She always manages to keep the vintage style alive and vibrant.

However, generally a lot of the 1940's & 1950's looks are associated with high heel shoes. So most of the time I only see females wear the vintage look accompanies with a pair of peep toed heels. To be honest with you, I love HEELS! ...But I can't wear them all the time... they KILL my feet after a couple hours! Haha!

I came across this look and I fell in love with it! Its fun, flirty, and comfy, with a vintage flair.




So Dita's outfit inspired me to put together a comfy and cute vintage inspired outfit of my own. This look can be worn to school, a BBQ, or just out and about!


This look consists of:

-Nautical off the shoulder shirt $14.99 (5-7-9, now on sale for 9.99 buy one get one 50%)
-High waist shorts with gold anchor buttons $15.99 (Bloom)
-Casual red boat shoes $4 (Walmart)

The hair is optional. I did style it in loose curls and swept it to the side. Also my makeup is light and warm (my eyes still have a little bit of the "cat eyed" look). Feel free to accessorize with nautical style rings or dainty bracelets!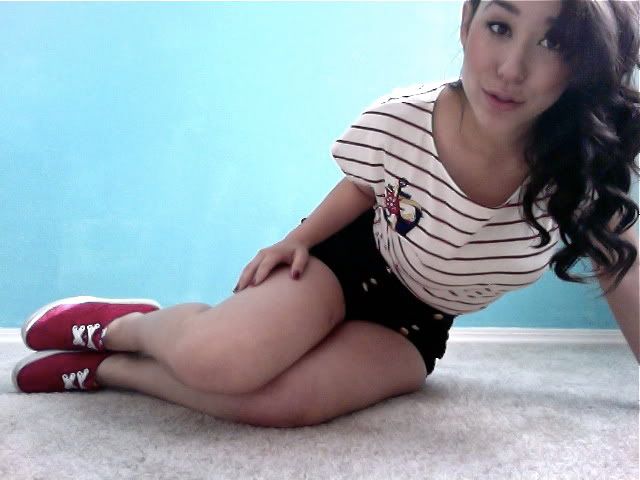 This is the full look! I'm using my Macbook webcam to take my pictures and I couldn't seem to a get one of my full body standing up

. I love this look because of the SHOES. They are so comfy and still keep the vintage inspired look.



A kind of awkward picture of me BUT it shows the cute anchor on the shirt and the gold buttons on the shorts!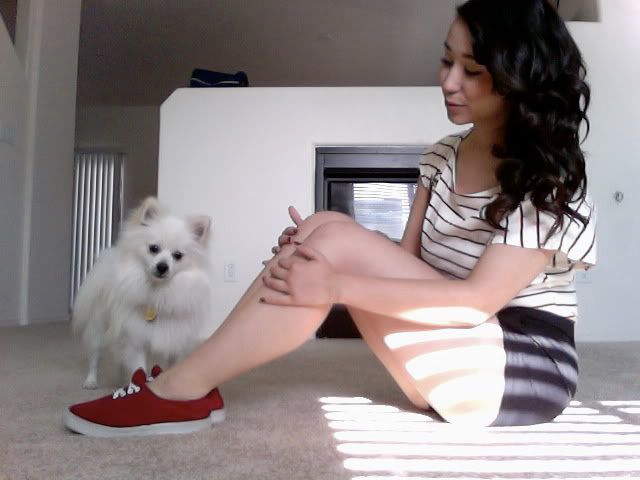 Me and my sweetheart Peaches!! He wanted to see what I was doing

.

Let the summer begin!!