This summer I was chosen to be maid of honor for my friends wedding. I was super thrilled but the my first thought was "What am I going to do for the bachelorette party?" I don't make that much but I still wanted to throw a fun party with cute decor and yummy drinks.



1.
Figure Out A Theme

: I did a 1940's pin up theme. The bride loves pin up girls so I figured this would be perfect! I envisioned martini glasses, roses, white lights, candles, and hors d'oeuvres. A theme will make everything more fun.



2.

How Am I Going To Afford This?

: Figure out your budget. BORROW BORROW BORROW! I borrowed white lights from my boyfriends mom, and vases from my mom. Plus you want the bridal party to help pitch in for alcohol! You know as well as I do that everything does add up!



3.

Where To Shop

:

They seriously have the best decor. I went there and picked up 14 martini glasses, 4 bags of fake rose petals, fake roses a pack of glass beads, and 25 plastic shot glasses for around $25! Also I went to Hobby Lobby and bought leopard print ribbon (for bows around the base of the martini glasses)for $4 on sale.



4. Breaking The Ice

: At a bachelorette party there will be some girls that don't know each other. After introducing everyone play drinking games! We had a game called "Never Have I Ever" which came in a deck of cards. Each person reads something outrageous on the card and if any of the girls have done it they take a drink. It was tons of fun! You can find more games like this at Spencer's or any gag shop.



5.

DRINKS ANYONE!?

: One of my main concerns was "How am I going to afford drinks for everyone?" Then it hit me… JUNGLE JUICE AND JELLO SHOTS! Easy to make and affordable, that's right up my alley!



*Any of these recipes can be altered for your liking! This is just how I personally like it.



You will need a large cooler. Make sure the liquids are chilled.



Ingredients:




1. Mix all liquids in cooler
2. Cut up as much fruit as desired I did a full carton of strawberries, 3 oranges, and 2 cans of pineapple (I also added the juice from the can)
3. Let it sit for 4 hours, then serve! Add ice if you want it super cold.



You will need small plastic shot glasses or small paper cups($1 at Dollar Store). Some people like paper cups because its easier to get the shot out.

or
Ingredients: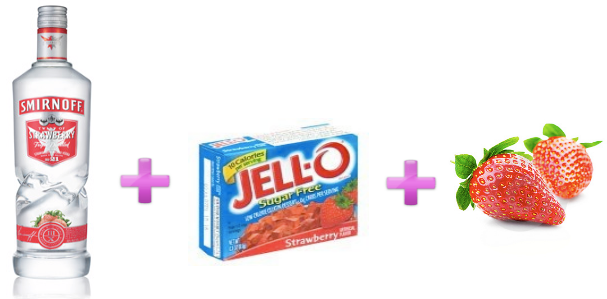 1. Follow directions on the jello box EXCEPT only add 3/4 cup (6oz) water.
2. Let it cool for about 10 minutes, once cooled add 1 1/4 cup (10oz) of Strawberry Vodka
3. Then cut up strawberries into small wedges. You can ether insert small slices into the jello shot glasses or keep them as a delicious chilled chaser!
4. Pour even amounts into all the shot glasses and set in the fridge for about 5-6 hours. However I make mine 8 hours ahead or even the night before (just in case!)

About 15+ girls showed up so I'm glad I made enough drinks for everyone! Have fun!
I hope you enjoyed this post! Please ask if you have any questions!