Sorry for the delayed "fall" fashion post! It just NOW started cooling down out here in New Mexico. Sporting fall fashion in 80 degree weather is pretty difficult. Unfortunately I can't cover EVERYTHING that's trendy this fall, but here are some of my personal favorites:
1. I LOVE the
military
trend. Militant style coats are my favorites especially when they compliment your shape! I really enjoyed the jackets with some leather boots last fall.
2. I love this
leather
look. The leather dress and minis are my personal favorite! I have the mini but all I need is the dress and I'll be set!
3.
Chunky knits & Ponchos
! This look is so comfy and warm since its starting to cool down. The ponchos are nice to throw on with cute jeans and boots for sleepy mornings at school or a day at the pumpkin patch.
4.
Leopard print accessories
. Cardigans, purses, shoes, bracelets and more. A perfect way to accent your outfit. I want a leopard print cardigan right meow! Keep it classy not trashy!
5.
Polish trends
! Polishing my nails is how I unwind and relax. These polish trends are absolutely adorable. Purples hues, shiny metallics, soft neutrals, and vibrant gem tones a super popular this fall. These lovely shades are perfect ways to make your hands pop.
6.
SHOES
!!! Masculine oxfords, chunky clogs, pointy toed flats, cutout shoes, lace up and knee high boots are on top this fall. The oxfords have to be my favorite: super classy and casual.
Keep in mind most of these items can be found at Forever 21 and H&M. I can't wait to go shopping ahhh! What is everyone wearing this fall? Hmmmm?
Also just to throw in, here are some of my favorite recent finds!

My $7.99 leopard print stretch pants I found at Forever 21 last week.

Heart Suspender Style Tights ordered from
ASOS
. They're a super cute twist on the tradition printed tight!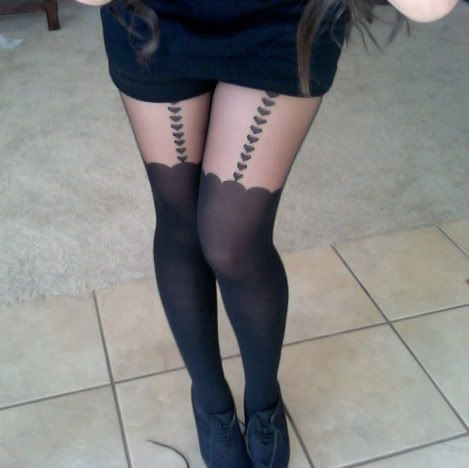 For more trendy trends check out
H&M's fashion press release
!
ALSO for
tons
&
tons
of inspiration check out the lovely Ladies and Gents at
Lookbook.nu!